20 inch (500mm) NOBLES SS3 EQ212247
SKU:

EQ212247

Shipping:

Calculated at Checkout

Battery Amp Hours:

105

Shipping Time:

Ready to ship

Battery Type:

Wet

Equipment Category:

Automatic floor scrubber

Charger Type:

Onboard

Equipment Class:

Walk behind

Condition:

Fully Reconditioned

Equipment Industry:

Floor care / janitorial

Movement:

Push / pull

Pads or Brushes:

Pad driver

Power:

Battery powered

Scrubbing Method:

Disc

Working Width:

20 inch

Asset Type:

Battery Auto Scrubber
Description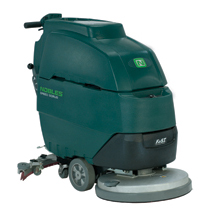 stock model photo
The Nobles SS3 is a battery auto scrubber. It is small, compact and easy to operate. With its 10.5 gallon solution tank and 15 gallon recovery tank, this scrubber boasts best in industry standards for uncompromised performance and reliability. It features non-corroding cast aluminum scrub decks and squeegee frames and outstanding water recovery, even in 180 degree turns. Brush and squeegee replacements are easy and require no tools. The Nobles SS3 features simple, familiar quick train controls. It produces top of the line results in any application, thanks to powerful scrub motor and exceptional down pressure.
Scrub motors: 1.0 hp (0.746 kW)
Scrub motor speed: 230 rpm
Brush or pad down pressure: 50 and 90 lb (23 and 41 kg)
Solution tank capacity: 10.5 gallon (40 L)
Recovery tank capacity: 15 gallon (57 L)
Vacuum fan details:
Motor: 0.5 hp (0.370 kW) 2 stage
Water lift: 40 inch (1,020 mm)
Power: 24 V battery system
Run time: up to 2.5 hours
Product length: 50.25 inch (1,275 mm)
Product width (body): 18 inch (460 mm)
Product width (scrub head): 21.5 inch (550 mm)
Product width (squeegee): 30 inch (760 mm)
Product height: 43 inch (1,090 mm)
Product weight (less batteries): 205 lbs (93 kg)
Product weight (with batteries): 340 lbs (154 kg)
Docs
View All
Close
Warranty Information
USA-CLEAN Floor Equipment Warranty Info
Warranty Duration
| Equipment Status | Parts Coverage | Labor and Travel Coverage | |
| --- | --- | --- | --- |
| Fully Reconditioned With Installation | 6 months | 2 months | |
| Fully Reconditioned Without Installation | 90 days | 1 month | |
| Used / Repaired | 1 month | — | |
| As-Is | — | — | |
Best-In-Industry Coverage
USA-CLEAN, Inc. warrants to the original purchaser, for the above-stated periods, that machines will be free from defects in workmanship and material, provided that machines are installed, operated, and maintained in accordance with USA-CLEAN's instructions.
The warranty period begins on the installation date at the end-user site. This warranty does not apply to damage or failure caused by accident, misuse, negligence, abuse, improper repair, or maintenance of the machines. Please refer to the Machine's Operator Manual for proper machine operation and maintenance instructions.
Labor and Travel Warranty
USA-CLEAN, Inc. will provide labor and travel for the above-stated periods.
Parts Warranty
Parts replaced or repaired under this warranty are guaranteed for the remainder of the warranty period. Consumable parts, expected to wear from normal use, are not covered under the parts warranty. These consumable parts include, but are not limited to: belts, brushes, pad drivers, filters, squeegees, tires, skirts, battery cables, external hoses, and carbon brushes. Batteries are covered on a pro-rated basis for twelve (12) months on Certified machines. Used batteries and battery chargers sold with machines have no warranty coverage.
Return Policy
Certified machines may be returned or exchanged within five (5) days of the delivery date if the machine does not meet end-user quality standards. Return freight is the responsibility of the end-user.
Repair Parts Warranty
After the warranty period expires, repair parts supplied by USA-CLEAN, Inc. are warranted against defects for the period of ninety (90) days, with the exception of batteries which are covered on a prorated basis for twelve (12) months. The repair parts warranty only covers parts, not labor or travel (see service labor section for terms).
Service Labor Warranty
Labor and travel performed by a USA-CLEAN, Inc. service representative are warranted for thirty (30) days from the date the repairs are completed. This policy does not cover work performed by any service company other than USA-CLEAN, Inc. Service Providers and is restricted to the specific repair operation or component for which a claim is made.
Disclaimer
USA-CLEAN, INC EXPRESSLY DISCLAIMS ANY AND ALL OTHER WARRANTIES EXPRESS OR IMPLIED, INCLUDING, BUT NOT LIMITED TO, ANY IMPLIED WARRANTY OF MERCHANTABILITY AND FITNESS FOR A PARTICULAR PURPOSE. USA-CLEAN SHALL NOT BE LIABLE FOR INCIDENTAL OR CONSEQUENTIAL DAMAGES, WHETHER DIRECT OR INDIRECT, INCLUDING, BUT NOT LIMITED TO, BUYER'S LOSS OF MATERIAL OR PROFITS, INCREASED EXPENSE OF OPERATION, BODILY INJURY, LOSS OF USE OF PROPERTY OR DOWNTIME.
USA-CLEAN, Inc. reserves the right to change its warranty policy without notice.
View All
Close